5 Quick Tips on Turning Your Site into a Mobile SEO Powerhouse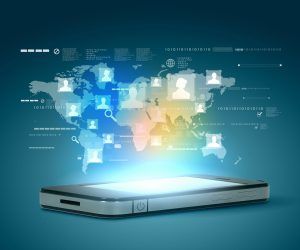 2015 is going to be the year where mobile search outpaces desktop search. More people will be searching for your business on mobile devices and tablets than computers. According to industry watchdog, BGR.com, 73% of Americans will have a smartphone by the end of 2015 and the average American will spend 33% more time on a smartphone than a computer. But not only is the audience size growing, the conversion metrics also far exceed anything frustrated desktop marketers have become accustomed to: According to Google, ad campaigns on mobile perform far better, with higher click through rates, 8x more phone leads on per campaign, and costs far lower than desktop. Yet only about 60% of businesses have completely optimized their sites for mobile and fewer still are fully capitalizing on those advantages through mobile advertising and SEO. With these 5 simple tips on Mobile SEO, you can jump out ahead of the competition and reap the benefits of the mobile trend:
#1 Decide your mobile solution
The first thing you need to decide is whether you are going to go with responsive web design (RWD) or a dedicated mobile site (m.YOURSITENAME.com). RWD is entering code into the website that allows it to adapt to a fluid grid; intelligently resizing for all devices and screen sizes. For most businesses, RWD is going to be the right solution: It's far more search engine friendly and simpler. But if your site has some complex functionality, like a back end member side or some other heavy duty utility, you will most likely not be able to make it perform as well with RWD. While Google has openly said that they prefer RWD, ultimately the user experience (UX) on your site is what's going to drive positive search engine signals long term and no decision should ever be made that compromises UX. So think user first and determine what solution works best for you.
#2 Local SEO
Almost 43% of all queries on Google are "local queries," or someone searching for something in a very specific, confined geographic area. And about 56% of all mobile queries are local. So when you're optimizing for mobile SEO you're really also optimizing for Local SEO.  Now countless hours of research have been done on corollaries to Local SEO and this research is too extensive to touch on here, but a quick overview is this:
Make sure you're putting name, address, and place (NAP) data into the site, so where you are and what you do. If you want to rank on "personal injury attorney Long Island," for example, you need to make sure those words and the NAP data are present prominently.
Make sure you really service the area you are going after. If you are a tele-worker or cover a very large service area you will need to pick a single concentrated metro area to focus on. You cannot be a jack of all trades or cover an unfair amount of turf.
#3 Page Speed
Connectivity on mobile devices tends to be slower. Luckily there are now lots of great site speed tools such as GT Metrix and Pingdom Site Speed for you to analyze your site. Ideally you want your mobile site to be in the top 10% of fastest sites on the web. GT Metrix especially gives a number of great suggestions on picking up site speed. Site speed itself is a search engine ranking impact factor (or SERIF). So faster sites, all things being equal, will be given some advantage in Google's algorithm.
#4 GWMT
Google Webmaster Tools should be your best friend. If you have not installed this nifty free program from Google, get it immediately. It goes through the trouble of telling you how your mobile site and regular site is viewed on various devices, checking for errors and giving invaluable reports.
#5 Limited Text
Mobile users are inherently on the go. Make sure your site is optimized for a quick reading experience. The long "sales letter" format of 5 years ago simply does not work anymore. Keep your site visual and to the point. If you can think of a way to cut down on text, do it! Less is definitely more when it comes to mobile.
A lot of companies have words like "innovation" and "staying ahead of the curve" printed on the gold plaque down in their lobby but few executives are waking up each day and actively asking "how do we innovate?" Don't let your website miss out on massive top line revenue growth from mobile SEO a minute longer. Research, get empowered, and start capitalizing on trends in the mobile market before your competition beats you to the punch!